Blog and News
Travelling across Victoria, New South Wales and South Australia, the Murray River traverses some of Australia's most iconic scenery, with the many towns it passes through home to unparallelled natural wonders. When it comes to making the most of the Murray, which in total spans just over 2500km, there's no better way to enjoy its beauty than by houseboat. Setting off from Mildura, here's how to make the most of your next unforgettable holiday.
---
Even more Victorians will be able to experience the very best of the Murray River, thanks to a $500,000 investment from the Victorian Government's Regional Tourism Investment Fund.
The support will allow All Seasons Houseboats to build a six-bedroom vessel that's accessible for people with disability, featuring wheelchair access, mobility support rails and a lift, as well as impressive luxury amenities including a spa, expansive living space, and a larger master bedroom with ensuite.
---
Bonza has achieved their Air Operator Certificate from the Civil Aviation Safety Authority and are preparing to go on sale with their Sunshine Coast based to be followed in time by the Melbourne base.
---
Murray River tourism and hospitality operators in Victoria's north-west may be facing another difficult tourism season as flooding results in mass cancellations.
"We've been dramatically affected by the floods, even though we've been given plenty of notice," Mr Bromley said.
"Our cafe has about one-and-a-half metres of water running through it at the moment."
Mr Bromley said all 16 of his houseboats were stuck in the Mildura marina.
"We probably aren't going to be able to run for at least a couple of months, I'd say," he said.
"I think we've refunded close to half million dollars and there's probably another $200,000 of refunds.
"We don't really know how far we've got to keep refunding to."
---
Height level adjusted to 300mm. One good piece of news!
---
Mildura residents have flocked to a riverside eatery to help clear it of food and stock ahead of the moderate flooding expected over the next few weeks.
Dockside Cafe owner Jodie Bromley said November and December were usually the busiest months of the year, but the business had to cancel all bookings, including weddings, because floodwater was anticipated to rise a metre above the venue's floor.
Ms Bromley said the community's response to her call for help on social media had been amazing.
"Everyone who saw the post and came down and said 'What else can we do to help?'" she said.
"It's been a positive out of all the negatives that have come out."
---
Sadly we have to had to shut down All Seasons Houseboats due to the impending high water due to peak mid to late November. The length of time we are out will depend on the continued flows into the Murray River. We have cancelled, transferred and deferred all November bookings and we will make contact with later bookings early next week. Please feel free to email only any queries/concerns, if you have a future booking.
Thank you for your patience and well wishes as we enter this very challenging time. Our normal river height is 35m and our latest height prediction is 38.5m which takes out all of our infrastructure, tanks and the @milduradocksidecafe. We are now only two steps away from the car park going under.
Whilst this is heartbreaking for everyone experiencing the flood from NSW to Vic, there are still some wonderful places to come and visit in Mildura, Victoria and our surrounds.
We will continue to keep you updated. A massive thanks to our AMAZING staff who have gone above and beyond and then again to help us, we can only say thank you.
---
28 April 2022: $500,00 GRANT TO BUILD A NEW ACCESSIBLE HOUSEBOAT!
Today, Minister Martin Pakula announced a $500,000 grant from Regional Tourism  Infrastructure Fund to All Seasons Houseboats to construct a NEW 6 Bedroom 6 Ensuite all abilities access houseboat! This project has been in the works for a while and we cannot wait for the public to see our designs and our BIG PLANS for this new houseboat!!
---
July 2019: FINALIST!
All Seasons Houseboats have been named as a Finalist in the 2019 Regional Tourism Awards and are now in the running to be named the winner at the award celebration evening on Saturday 27 July, 2019. Wish us luck!
---
March 2019: AMAZING UPGRADES
Increased battery capacity. We've spent the big bucks and are rolling out increased battery capacity on all our boats. This means our boats can go out and run 90% of the time WITHOUT using generators. Our luxury boats will now use a combination of solar power and super powerful battery storage. This means you'll save HUNDREDS OF DOLLARS per hire as the generator doesn't need to run as much.
Free WiFi. Over the past 6 weeks or so, we've been quietly trialling free WiFi on our Platinum Indulgence. Onboard guests have been ecstatic about it and the coverage is fantastic up and down the 100km of the Murray River. So much so, we've just spent a whopping $20,000 on upgrading Emerald Luxury's stereo system, which means she now too has free WiFi and Spotify. Party hard times ahead!
Dry dock time. We're taking our Ultimate Indulgence out of the water in August and transforming her with 6 bedrooms, 6 ensuites and enclosing the top deck. That's our plan – if you could ask for anything else to be done, what would you wish for? Don't by shy, let us know.
These upgrades demonstrate we are committed to ensuring your houseboat holiday is amazing, affordable, and luxurious – as you deserve it to be.
---
November 2018: ALL SEASONS HOUSEBOATS LAUNCH AT THE STATE OF ORIGIN
We were thrilled to be a major sponsor of the inaugural Wakeboard State of Origin, South Australia vs Victoria held on the Mildura Riverfront/Rowing Club.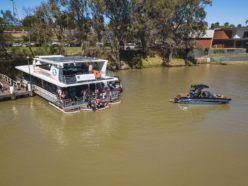 Starting at 8am on Saturday 17 November, our Sheer Indulgence was the launch boat for all the competing wakeboarders to set off from. Watching them race down the river was incredible. See the YouTube video here – it's amazing!
The weather was perfect, the river was excellent, everything was more than awesome on the day.
We'd like to say a big thanks to the Mildura Riverfront/Rowing Club, Visit Mildura, Malibu Boats and Axis Wake Research for a superb event.
Bring on the next one!
---
July 2018: ALL SEASONS HOUSEBOATS WIN AT THE REGIONAL TOURISM AWARDS
All Seasons Houseboats have won the Unique Accommodation category at the coveted Riverina Murray Tourism Awards held in Deniliquin on Saturday 21 July 2018.
The tourism awards are where leading regional tourism businesses, events, and visitor experiences from both New South Wales and Victoria are recognised for their achievements and excellence in tourism.
Mark Francis, Chief Executive Officer of Murray Regional Tourism accepted the award on behalf of All Seasons Houseboat owners, Jodie and Sean Bromley, who unfortunately couldn't attend the high calibre event in person.
"We've very proud to have won the award for the most unique accommodation in the Riverina Murray," Jodie said.
"We couldn't have done this without our fantastic customers who make it easy for us to aim high and continue to keep doing what we do, and more, each year.
"There are now 15 houseboats in our fleet, and considering we started out with just two back in 2005, we've come such a long way and it's a reflection of the passion, hard work and dedication from each and every one of our team.
The company now progresses to the NSW Tourism Awards to be held in Sydney later this year. All Seasons Houseboats operate their luxury houseboats out of the new Mildura Marina, in Victoria's Sunraysia region. The company has a commitment to providing a unique, relaxing and enjoyable holiday experience and all boats are renovated to a luxury standard with modern kitchens, quality linen, roof top spas, satellite TV, free polycraft outboard, and a complimentary pilot service through Lock 11.
---
November 2017: ALL SEASONS WIN BIG AT THE VICTORIAN TOURISM AWARDS 
All Seasons Houseboats have won the Unique Accommodation category and achieved Hall of Fame status at the Victorian Tourism Awards held on Thursday 23 November 2017.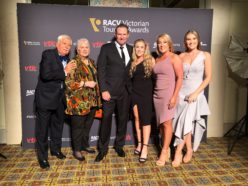 The Victorian Tourism Awards play a vital role in rewarding business excellence, innovation, industry professionalism and collaboration of the states leaders in tourism excellence, and as this was All Seasons Houseboats third win the same category over three consecutive years, they have also achieved prestigious Hall of Fame status.
Owners Jodie and Sean Bromley were there to collect the award and the grins couldn't be wiped off their faces.
"Becoming a peer recognised, award winning business takes a lot of hard work and dedication and we're thrilled to have now won this award for three years in a row," Jodie said.
"From just two small boats in 2005 to now operating a fleet of 14 luxury boats it seems unbelievable just how far we've come.
"It's been a wild ride of years of planning and experience to make every guest's experience safe, memorable and enjoyable.
"We would like to thank our hard working team for their passion and commitment, as well as to our guests who sail with us every year, we couldn't have achieved this incredible milestone without you all."
Due to this sensational win, All Seasons Houseboats will now proceed to the Australian Tourism Awards to go for gold as the most unique accommodation in the country.
---
An update on Ruby Luxury
The brand new Ruby Luxury eco friendly houseboat joins the family luxury fleet and has a massive 9kw of solar power…more than most homes with all the modern conveniences.
Similar features of Sapphire Luxury, she is the newest boat on the Murray River in Mildura.
---
A few long , lazy days, sailing up the river …..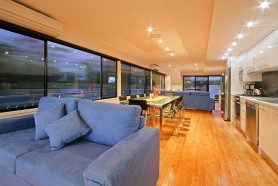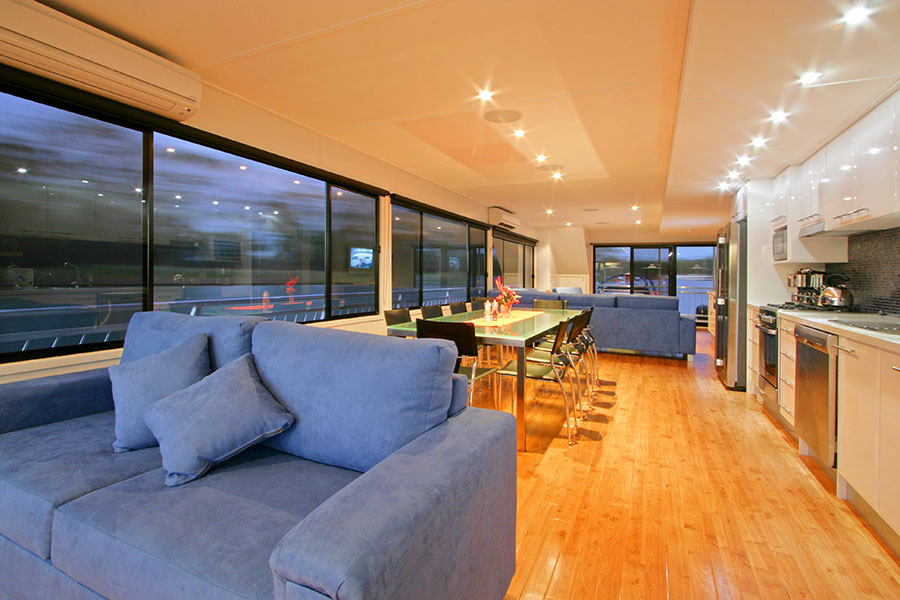 Last month we were fortunate enough to host Melanie Ball and her husband on board the gorgeous houseboat Absolute Indulgence.
Please click on the link below and read her story of how she spent a few days in Mildura, on board Absolute Indulgence.
Houseboating holiday on the Mighty Murray River – Qantas Travel Insider
---
This gorgeous 6 bedroom 2 bathroom houseboat is one of our family favourites and it was her year to have a facelift.
Listening to our loyal customers, the feedback on the new 900mm ovens has been overwhelming with so many crews doing re-makes of MKR and bake offs that we thought that Sheer too, needed one.
We didn't stop there, we also installed a brand new kitchen, new flooring thru out the boat and roof top solar. Not forgetting the roof top where a new granite bench top and bar are currently being made. #agirlsnewlook
---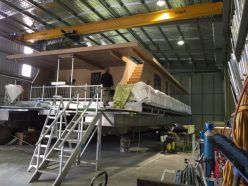 Our newest boat is nearing the end of construction and will be the "newest" boat on the Murray River in Mildura this coming September – October 2016.
Our first ECO FRIENDLY boat, Ruby has a roof top full of solar panels and pontoons full of batteries, allowing her to run generator FREE.
Book now for Spring 2016 and Summer 2017.
---
Gold in the Victorian Tourism Awards 2015
Finalists in the Australian Tourism Awards 2016
November 2015 saw All Seasons Houseboats take out gold in the Victorian Tourism Awards. The Tourism Awards show case and recognize the states leaders in tourism excellence. The awards play an integral role in rewarding business excellence, innovation, industry professionalism, collaboration and initiative.
February 2016, All Seasons Houseboats were fortunate to be finalists in the Australian Tourism Awards, up against some of the best Unique accommodation in the country. The race for gold illustrated the diversity of "Unique Accommodation" from far across the country. Taking the gong for gold was Taronga Western Plains Zoo and silver to Avalon City Retreat, Tasmania.
We would like to especially thank our customers who sail with us each year and very importantly the staff behind the scenes and on the front line, who make up the All Seasons Team. Thank you to all.
---

This November we welcome the launch of the newest lady to our fleet and on the Murray in Mildura, the "Ruby Luxury".
A re-build of the hugely popular Sapphire Luxury, she will have a similar layout, design and feature. Get in now if you are wanting a January holiday in 2017.
---
All Seasons is going
GREEN
Since January 2016 we have been installing solar panels to the roof's of our houseboats.
7 boats are now completed with the rest to be completed by summer 2016-17.
With Mildura's abundant sunshine (we have over 800 more hours of sunshine than the Sunshine Coast) the use of the solar panels has resulted in a dramatic reduction of generator running hours.
Not only is this a cost saving to our customers but provides less running time of the generators during your houseboat holiday.
The main difference between All Seasons Houseboats and other houseboat companies is we haven't just stuck on 1kw of solar power …. we have filled the roofs with up to 7 1/2kw of solar panels, more than most Australian homes.
This much solar provides energy to the batteries which powers the boat, allowing the boat to run for longer without having to use the generator to charge the batteries. During our summer months this has resulted in some boats going 2-3 days without their generator running. (based on normal usage). Exciting news.
---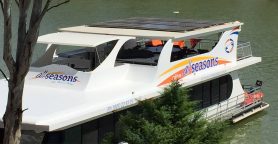 Ski Jamboree 2016 – March 2016
In conjunction with Dockside Café, All Seasons Houseboats launched …"Ski Jamboree 2016" an on water ski display with auction, raising funds for BCNA (breast cancer network Australia).
This event was a natural follow on from launching Platinum Indulgence in 2015 … our "Pink Lady" houseboat which sails the mighty Murray as a billboard for raising awareness of breast cancer.
Along with the fantastic skiers, volunteers, staff, generous sponsors and of course all of the people who attended, we raised an unbelievable $14,482.00 for BCNA. Congratulations to everyone involved on the night a magnificent result.
"SKI_LIEVE IN A CURE"
---
New stoves and ovens
For all of the culinary chefs out there…great news we have upgraded the stove tops / ovens on board Ultimate Indulgence and Extreme Indulgence from 600mm ovens to 900mm.
So next time you sail, we expect some Master chef meals to be on the menu.
---
The LAUNCH of Platinum Indulgence – December 2014
This December we welcome the launch of our newest lady, the magnificent Platinum Indulgence.
Offering 6 bedrooms and 6 ensuites, this spacious houseboat accommodates 12 guests in 5 star luxury offering everyone total privacy.
Covering the entire roof line upstairs, is spacious outdoor under cover living.
Boasting a large spa, dining table, open bar and BBQ area, TV and roof top helm.
Cruise the iconic Murray River in style.
---
Why will Platinum Indulgence be PINK?

Platinum Indulgence is dedicated to increasing the awareness of breast cancer and is supported by Breast Cancer Network Association (BCNA). Breast cancer is the most common cancer affecting women. view our houseboat fleet In 2014, it is estimated that 15,270 women will be diagnosed with breast cancer. That is 42 of our sisters diagnosed DAILY.
In the past 18 months one of our staff and her family has undergone this journey and we wanted to show our support in fighting this disease. Therefore, Platinum Indulgence has pink signage and will sail up and down the iconic Murray River in all of her glory promoting "Breast Cancer" awareness. For further information on Breast Cancer please visit www.BCNA.org.au
---
Pure Pleasure joins All Seasons Houseboats – September 2014
Exciting News – "PURE PLEASURE" already based in Mildura this 12 berth boat with 5 bedrooms and 5 bathrooms has front kitchen and all the mod cons of home in a floating 5 star villa.
Contact us NOW for great availability.
---
September 2011, saw the opening of the new Dockside Café and ski shop at the Dockside  Marina, the home of All Seasons houseboats.
All houseboats guests are welcome to drop in for coffee & cake or have lunch prior to boarding and we can assist you with organising some of your paperwork whilst you wait.
Dockside Marina & Café offer all houseboats guests 10% OFF all ski gear & equipment.
---
The next & newest addition to our "Luxury" range… we welcome Emerald luxury to the fleet.
Bookings being taken now so you can be one of the first to sail aboard this gorgeous boat.
Featuring open plan living, 3 bedrooms and sofa beds, she offers great diversity and is very family friendly.
Sit back & relax whilst driving from the top deck enjoying the view.
---
Launched November 2011 the biggest there is: "Extreme Indulgence"

Exceptional Quality!  A houseboat holiday on the river with the luxury of your own private floating villa. Extreme Indulgence will have 6 bedrooms and 6 ensuites so offering everyone the ultimate in luxury and privacy & all with personal tv/dvd's.
The under cover top deck is your own private resort with luxury spa, sun beds, gourmet BBQ, helm deck and huge entertaining area complete with your own bar. Cruise the river in total style and complete luxury. Extreme Indulgence has set the new standard on luxury holidays. We are trialing external roof heaters to the upstairs area. Although summer is just around the corner, we are already looking forward to dining upstairs in the cooler months with the heaters on & a bottle of red.
Also we are trialing new 12v LED lighting which will be a huge power saving but more importantly won't attract the bugs!!
---
August 2011 Boat Update
Research from the world's top 3 marine outboard manufactures, Mercury, Yamaha and Suzuki has proven that the use of larger motors results in better fuel efficiency for the user when used at appropriate RPM'S and provides greater manoeuvrability and control. Ultimate Indulgence December 2011, will see Satellite TV installed upon Ultimate Indulgence. So now you can sit back in the spa, relax on a sun lounge, cheer on the couch as your favourite sport or show is being shown.
---
2010 Boat Update
We now have the most boats with split system heating and cooling, so why swelter through the hot summer days or miss out on a winter adventure. Both Pure Indulgence and Margaylea have had split system heating & cooling installed upon them this November 2010, ensuring that on the hottest of summers days your inside temperature will be a comfortable 23 deg C. Boats in our fleet with split system air-conditioning are:
Houseboat – Quicksilver: late 2010 saw the installation of an inverter system onto Quicksilver which now allows it to have constant 240volt power, no need to go start generators it all happens automatically. New floorings are prepared to be laid this December ready for our summer months.
---
Sponsorships
2011
3x Houseboats for Camp Quality
2010
Cancer For Kids
Victoria C.F.A.
Breast Cancer Foundation
Relay For Life
St. Pauls Primary School, Mildura
2009
4 Houseboats to Black Saturday Fire Appeal
Cancer Council – Biggest Morning Tea
Irymple Bowling Club
2008
Cystic Fibrosis Foundation
Cancer Council – Biggest Morning Tea
Breast Cancer Foundation
Can-Assist (Cancer Foundation Balranald)
Irymple Bowling Club
---
Fleet News
Pure Indulgence has received a facelift upstairs with new carpeting, fibreglassing and painting. The rear swim deck has also been extended, so plenty of room for skiers and equipment. Something NEW… We have installed BOW THRUSTERS aboard Pure Indulgence and Absolute Indulgence. These have been specifically installed at the bow of the boat on each side of the pontoons to help make your parking much easier. These are the only houseboats in Mildura to have thrusters installed on them, therefore making them the easiest boats to park. As we enter our Summer months, we have also updated the roof top helm bimini's from canvas to hard tops, thereby keeping you cooler from the summer sun. Hard top bimini's have been installed aboard Ultimate Indulgence, Sheer Indulgence, Pure Indulgence, Absolute Indulgence and Sweet Indulgence.
Cleaning the Murray as you houseboat!
All Seasons Houseboats in Mildura has become the first and only houseboat business on the Murray River in New South Wales/Victoria to trial a revolutionary grey water treatment system. The 2 year trial is a partnership between New South Wales Waterways and South Australian EPA. Installed on the luxurious 5 star houseboat Absolute Indulgence, the Newtreat system passes water through several chambers which separate and break down the many chemicals found in grey water, including the fats and oils associated with cooking. The system is capable of treating grey water to a level five times higher than the minimum world standard for drinking water. It also returns water to the river that would previously have been pumped into sewage treatment plants. Newtreat is effectively cleaning the Murray River. It is estimated that vessels use 1050 litres of greywater per person per week. A vessel carrying 12 persons would produce 12,600 litres of greywater a week when the greywater treatment system would require emptying and flushing. If all houseboats along the Murray River were to install this water filtration system this would have a substantial impact on reducing water taken from the Murray River. The system has been designed to treat up to 1800 litres of greywater every 24 hours – 150 litres of greywater per person per day with a total capacity of 12,600 litres. It is generally accepted that this would equate to around 7 days usage. The system weighs just 100 kilograms and is fitted to the underside of the vessel, featuring its own buoyancy, minimising any impact on the boat's performance.
---
All Seasons Houseboat berths at Dockside Marina
All Seasons Houseboats joins with Dockside Marina in Mildura with 3 moorings for its luxury boats. Dockside Mildura is an Australian landmark – a development which combines the lifestyle features of a masterplanned resort, with the functionality and practicality required of a premier grade marina. Located right on the Murray River within walking distance to the Mildura CBD, the first stages of development already are underway and understandably, many people already have seized the opportunity to secure their future at Dockside. Dockside Mildura has a 270 metre frontage to the Murray River and is nestled between formal ornamental gardens with water features; and natural riparian land. The Marina offers 15 Premium Waterfront Homesites, 24 premium quality Harbourfront Villas, 48 high quality Harbourview Villas, 24 mid-rise Horizonview luxury apartments, 150 room hotel & conference centre, 1500 sq.m. retail & commercial space, Fully floating marina berths for private owners and commercial operators and Supporting marina infrastructure.