Pure Indulgence. Outstanding luxury! You'll come back from this houseboat trip and say, "it was the most luxurious I've ever had."
Your 12 berth luxury comes with all modern features and appliances including Satellite TV, large screen LCD TV, DVD, dishwasher, washing machine/dryer, large fridge with water & ice dispenser, pod coffee machine and microwave in the fully equipped floating kitchen area. 5 spacious bedrooms & 1 day/night sofa beds all with personal smart TV and 2 bathrooms. Air-conditioned throughout with split system air conditioning in lounge and kitchen area. On top you'll find a great spa, top helm deck and huge party table.
Pure Indulgence speaks for itself.
*Low season hire with maximum berths occupied for 3 night hire
Pure Indulgence Online Booking
Key features you'll find on Pure Indulgence
Designed and built to provide Disabled Access (please call us direct for further information)
Full Sized disabled bathroom fully equipped • Duel Driving from downstairs or upstairs
Kitchen, Dining and Lounge areas
2Split system heating and cooling to lounge & kitchen
Comfortable luxury lounge area with couches overlooking the river
Modern dining setting that seats 12
Plenty of cupboard storage
Satelite TV
LCD TV incorporating state-of-the-art audio visual system, controlling iPod/DVD/TV with 6 separate zones
Second TV / DVD in rear lounge
Dishwasher & Microwave
All crockery, cutlery, glasses & cooking utensils
Large fridge/freezer
Nespresso Pod Coffee machine
Fresh drinking water
Sleeping areas
Full Sized disabled bathroom fully equipped


(ONLY BOAT IN MILDURA!)

2nd bathroom with full size shower vanity and toilet
Fresh drinking water
5 queen size bedrooms (3 split into singles)
1 quality innerspring sofa bed
Quality Doonas, pillows, Sheets and towels all provided
Air conditioning to all rooms
Outdoor facilities
Large 8 person roof top spa
Upstairs helm with seating
NEW Sun lounges
NEW Outdoor dining table & chairs
Bar with bar stools
Hooded gas gourmet BBQ
Large undercover sundeck
Safe & easy to climb proper staircase
Large icebox
Fully carpeted upstairs
Newly carpeted rear deck
Motor / Engines / Solar Power
State-of-the-art electronics incorporating electronic throttles, through to the most fuel efficient motors
Continuous power by 240v inverter
Powered by 2 brand new 2 x 90 HP outboard motors
Duel Driving from downstairs or upstairs

Instantaneous hot water system
Inverter 240V power
Over 6kw of solar panels on her upper roof, generating enough power to reduce the generator run time by 50-100%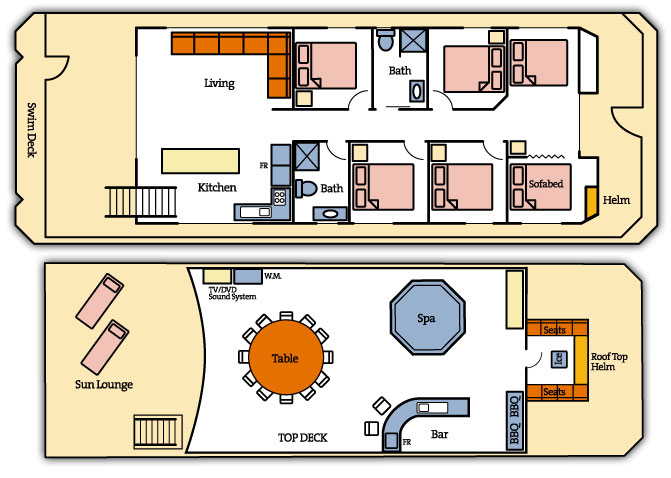 Pure Indulgence (6-12 berth)
| | 3 Nights | 4 Nights | 5 Nights | 6 Nights | 7 Nights | Extra Nights |
| --- | --- | --- | --- | --- | --- | --- |
| 1 Feb - 30 April 2023 | 4400 | 4900 | 5400 | 5900 | 6400 | 500 |
| 1 May - 12 Jun 2023 | 3500 | 3900 | 4300 | 4700 | 5100 | 400 |
| 12 Jun - 1 Sept 2022 | 3000 | 3300 | 3600 | 3900 | 4200 | 300 |
| 1 Sept - 17 Dec 2022 | 3900 | 4350 | 4800 | 5250 | 5700 | 500 |
| 18 Dec - 31 Jan 2024 | NA | NA | 7800 | 8300 | 8800 | - |
| New Year - 2023/2024 - (7 Nights Min) | P.O.A. | - | - | - | - | - |
| Easter 2023 - (5 Nights Min) | P.O.A. | - | - | - | - | - |