Fantastic 2015 Spring Houseboat Deal
Enjoy a fantastic spring break in Mildura, Victoria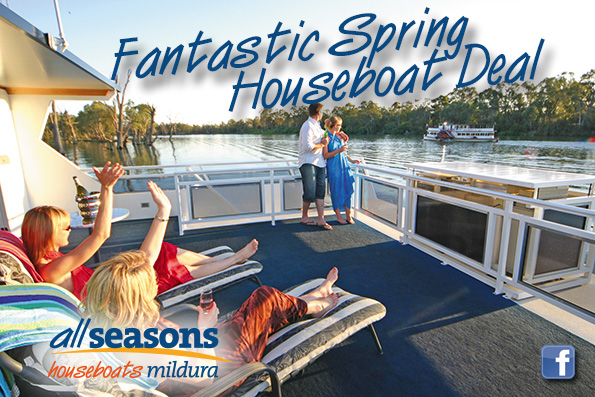 Missed out on escaping the winter chill this year?
Are you needing some warmer weather, sunshine, luxury and something a bit different?
Then start planning for Spring with our Fantastic Spring Deal!
This DEAL is available to all new bookings only,
made and taken between August 1st 2015 and December 15th 2015 
All bookings are provided with a free Polycraft runabout
and a complimentary bottle of local wine.
Normal terms and conditions apply.
All boats are available this Spring. We have included the YouTube videos on each for easy viewing:
See our extensive Houseboat Maintenance Program
You'll never be lost again with our GPS Technology
Call us now on 1800 223 375 or email us at info@allseasonshouseboats.com.au for more information.
Call us now on 1800 22 33 75 or
contact us for more information.