Wow…the full All Seasons WIFI Entertainment System included in your hire!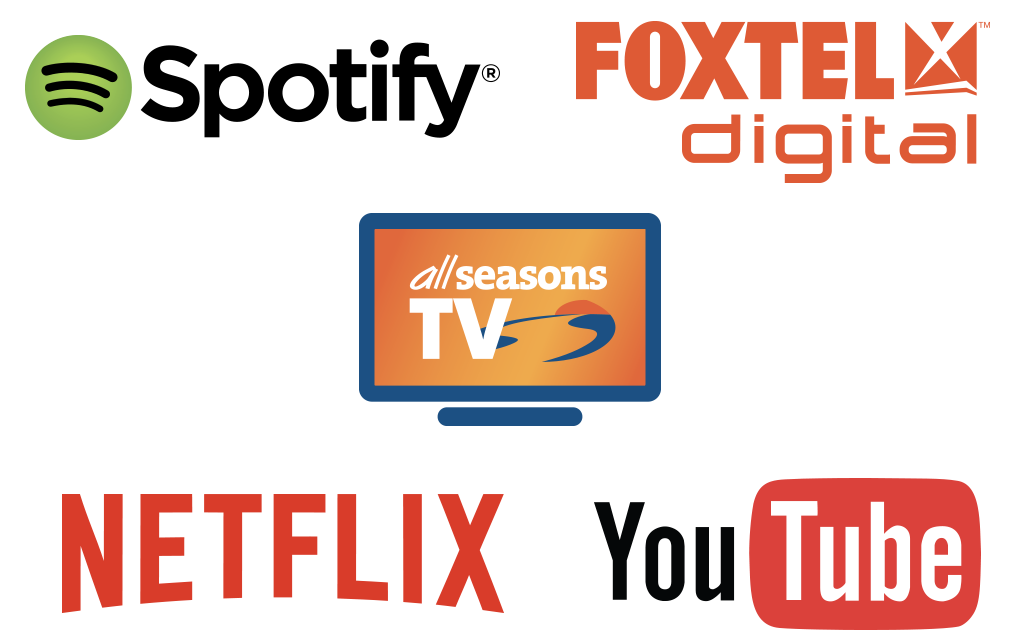 Welcome to your world class floating palace – Boatel Luxury Houseboat is an ultra-luxurious river boat that is more akin to a five-star hotel retreat than a houseboat.
Take the opportunity of a lifetime as we invite you to experience this stylish work of art, featuring an efficient design, smart layout, an unrivalled interior volume of space, exquisite comfort and perfect presentation. Every conceivable thing is at your fingertips as you cruise one of Australia's greatest national icons, the Murray River.
A two story wraparound windscreen showcases the magnificence and unique charm of the outback vista. This is a place where you can do as much or as little as you choose. A place that is calm and peaceful, yet brings out the free spirit in everyone.
Boatel Luxury is a prestigious vessel, complete with sky lounge, lower swim platform, an alfresco BBQ and entertaining area, and an incredibly functional kitchen, which in a masterstroke of design, can easily have ten working around it.
It is a place where dreams are discovered and memories are made. It is a place where great friends come together to experience amazing times.
Welcome to your Boatel Luxury – the River Dream.
Boatel Online Booking
Key features you'll find on Boatel Luxury Houseboat
5 bedroom & 5 ensuites, evaporative cycle air conditioning
Kitchen, Dining and Lounge areas
Main helm in the sky lounge offering wonderful panoramic views
Open plan living
Comfortable luxury lounge area with 3 couches
Modern dining setting that seats 10
Plenty of cupboard / pantry storage
Satellite TV
LCD TV incorporating state-of-the-art audio visual system, controlling iPod/DVD/TV with 6 separate zones
Cooling evaporative air conditioning
Dishwasher & microwave
Laundry facilities
All crockery, cutlery, glasses & cooking utensils
Large fridge/freezer with ice & water dispenser
Built in coffee machine
Fresh drinking water
Sleeping areas
TV / DVD in all bedrooms
5 ensuite bathrooms with full size shower vanity and toilet
Fresh drinking water
5 king size beds, (some split into singles) ALL with ensuite bathrooms
Quality doonas, pillows, sheets and towels all provided
Air conditioning to all rooms
Outdoor facilities
The open plan kitchen and dining leads thru large bifold doors to the alfresco entertaining area
Satellite TV
Upstairs helm with seating
Soft plush outdoor couches and chairs
Hooded gas gourmet BBQ's
Large undercover sundeck
Safe & easy to climb proper staircase
Large icebox
Fully carpeted upstairs deck
Large swim platform
Motor / Engines / Solar Power
State-of-the-art electronics incorporating electronic throttles, through to the most fuel efficient motors
Continuous power by 240v inverter
Powered by a fully automatic 8 1/2Kw Onan generator
Powered by 2 brand new 2 x 1150 Honda outboard motors
2 Instantaneous hot water systems
Ski boat "V" hitch
FREE PolyCraft Hire
Over 2kw of solar panels on her upper roof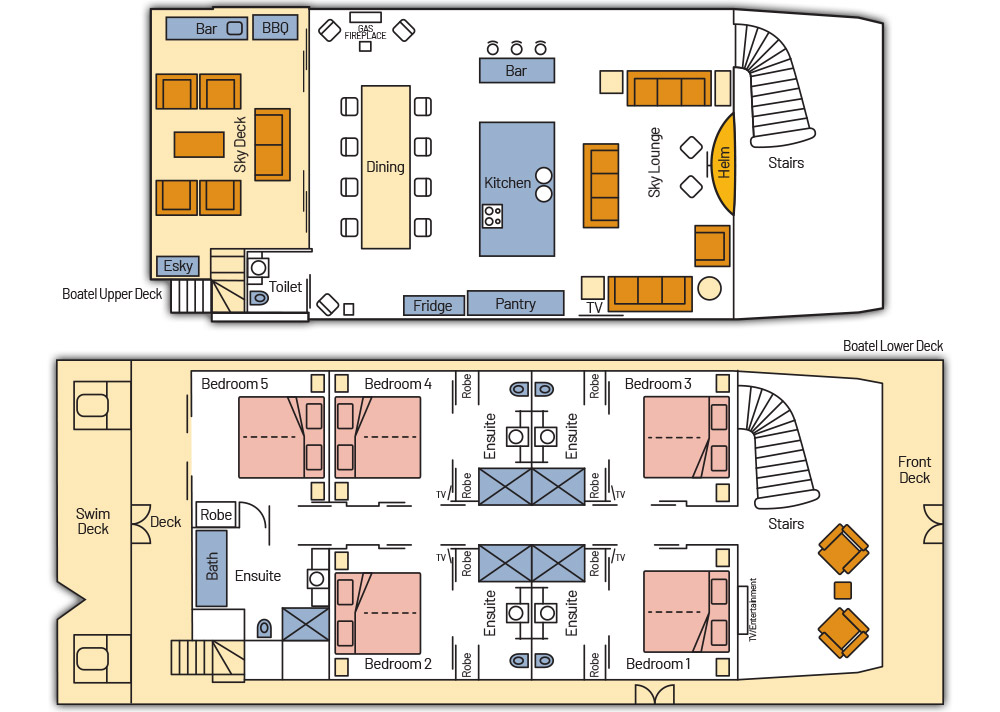 Boatel Luxury (8-10 berth)
| | 3 Nights | 4 Nights | 5 Nights | 6 Nights | 7 Nights | Extra Nights |
| --- | --- | --- | --- | --- | --- | --- |
| 1 Feb to 30 April 2022 | 5200 | 5850 | 6500 | 7150 | 7800 | 650 |
| 1 May to 31 Aug 2022 | 4200 | 4600 | 5000 | 5400 | 5800 | 400 |
| 1 Sept to 17 Dec 2022 | 5200 | 5850 | 6500 | 7150 | 7800 | 650 |
| 17 Dec 2021 to 31 Jan 2023 | - | - | - | - | 9800 | - |
| New Year - 2022/2023 - (7 Nights Min) | P.O.A. | - | - | - | - | - |
| Easter 2022 - (5 Nights Min) | P.O.A. | - | - | - | - | - |